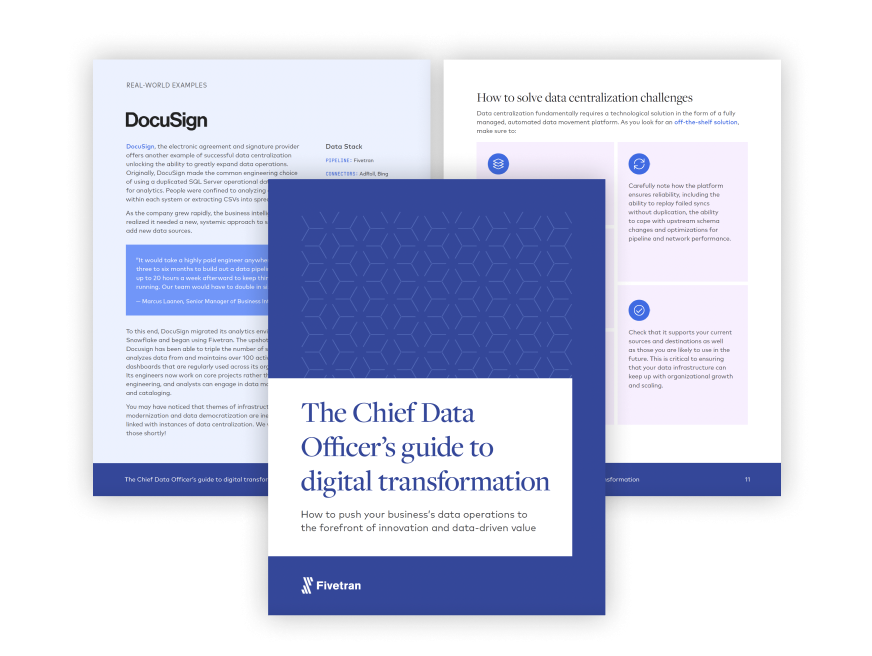 Download FREE Digital Transformation Resource
The Chief Data Officer's guide to digital transformation
Learn how data leaders at organizations like WeWork, DocuSign, Autodesk and more are eliminating data silos and unlocking innovation to deliver data-driven business decisions that increase revenue.
This actionable roadmap delivers a structured approach to digital transformation. The four stages not only constitute a progression to unlock the value of data and improve data maturity but also highlight real-world use cases from companies like yours.
One organization, Oldcastle Infrastructure, automated the movement of data to access enterprise-wide transactional, manufacturing, and production data in a single environment. The new capabilities improved business outcomes and led to an operating profit growth of 21.5% in one year.
Your takeaways:
How data centralization improves efficiency (Page 9)

The critical role infrastructure modernization plays in organizational agility (Page 15)

Achieving data democratization to promote data literacy (Page 20)

Why building data solutions unlocks innovation and data-driven products (Page 24)
Whether you're a business leader, data professional, or simply interested in learning more about using data in proactive and innovative ways to drive enterprise growth, this guide is for you.
Get your FREE guide now to gain a roadmap for bringing your organization to the forefront of data maturity to drive innovation and data-driven products.
Register for free access to this content: